History of Alsace / Histoire de l'Alsace
---
Genealogical table for the House of Andlau
Arbre généalogique de la Maison d'Andlau
---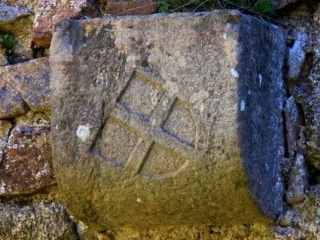 The Andlau are an Alsatian noble family known from the high middle ages, Rodolph I died sometime after 1208. Andlau castle is a prominent landmark in Alsace located in the Vosges between the cities of Selestat and Obernai. The site and family are associated from the very early Middle Ages with the famous Abbey of Hohenburg at Mt St. Odile. As such this area in Alsace always played a part in local politics and those nobles who protected the Abbey were players to be reckoned with.
In my researches on the family tree I have found a great deal of information on the family covering many separate branches through nearly 800 years of continuous family history. The House of Andlau exists to this day, a very remarkable achievement. In working the chart on the other hand, I found it impossible to trace each branch in the space I have allotted myself. Those branches left off are indicated by blue arrows on the chart and my complete notes including all branches (for which I have information) are found in the "PDF Input Notes" link.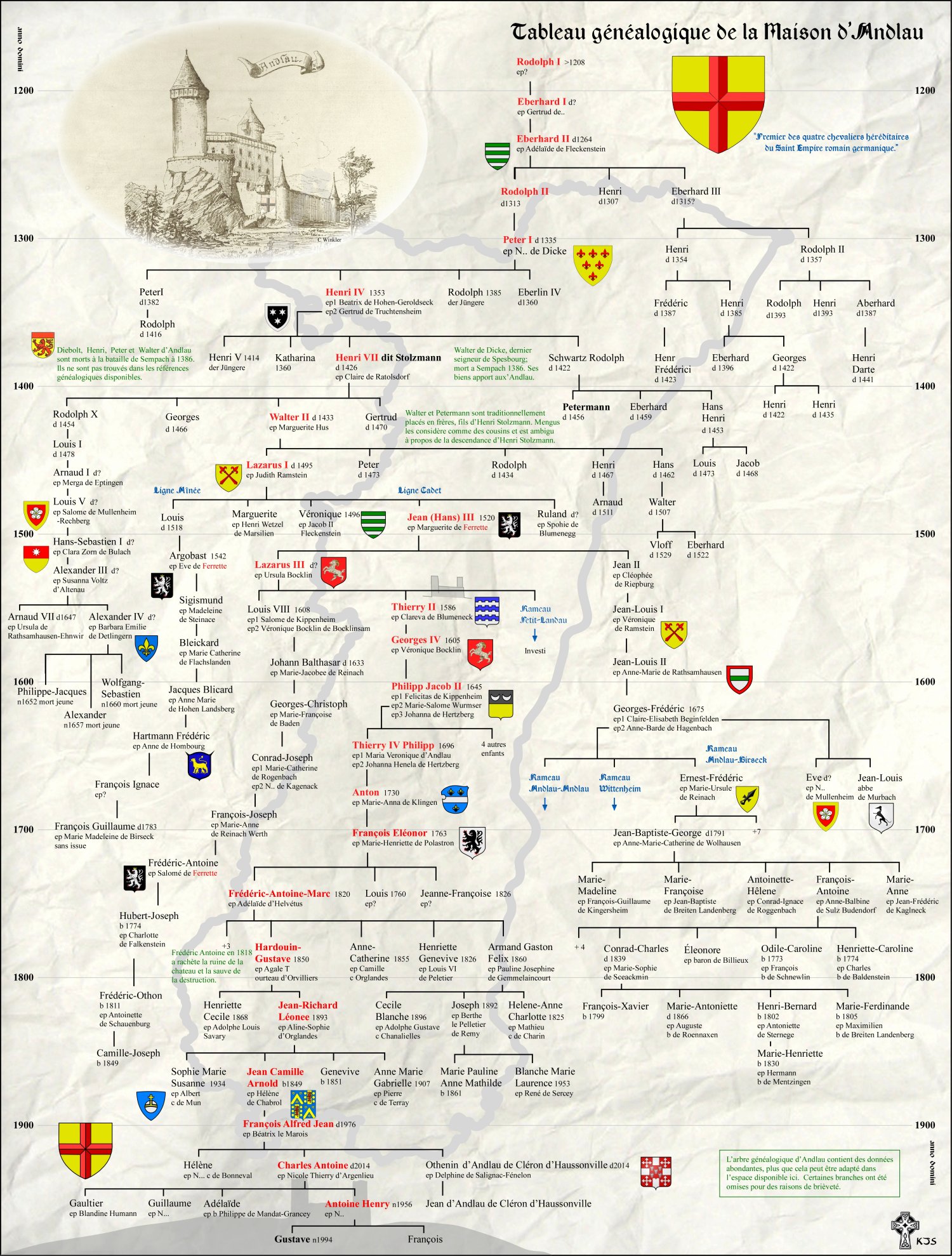 Principle References utilized:
Les Sires d'Andlau au Moyen Age
Nicolas MENGUS
REVUE D'ALSACE tome 124, fasciculs 602
http://www.mgh-bibliothek.de/dokumente/z/zsn2a046945.pdf
Andlau (Bas-Rhin)
M. Ernest Lehr
Le Livre d'or du Patriciat de Strasbourg, 1870
https://books.google.com/books?id=qKYxAQAAMAAJ&pg=RA1-PA2&focus=viewport&output=text
Süddeutscher Adelsheros, oder Geschichte und Genealogie
Friedrich Cast
1844
https://books.google.com/books?id=LutRAAAAcAAJ&pg=RA1-PA33&lpg=RA1-PA33&dq=andlaw+Geschichte+Genealogie+andlaw&source=bl&ots=pT2SKEMJUj&sig=tnXvDYs0ZXdWp0owuKZAVteG3mw&hl=en&sa=X&ved=0ahUKEwjzit7_vrPSAhUGzmMKHWExDQEQ6AEIJzAD#v=onepage&q=andlaw%20Geschichte%20Genealogie%20andlaw&f=false
Genealogisches Taschenbuch der freiherrlichen Häuser, Volume 2. 1849
Andlaw - Birsed
https://books.google.com/books?id=c_dSAAAAcAAJ&pg=PA10&lpg=PA10&dq=Familie+Andlaw&source=bl&ots=uq1dV1GG4M&sig=53icRHOYkxEMbhamSGVPHdgfr7A&hl=en&sa=X&ved=0ahUKEwi9ypC7xbPSAhVBfiYKHckSDt8Q6AEIMjAD#v=onepage&q=Familie%20Andlaw&f=false
Wikipedia: Various pages by name.
Finn Gaunaa:
http://www.roskildehistorie.dk/stamtavler/adel/tyske_smaa/Andlau.htm
Gene.com:
https://www.geni.com/people/Henri-VII-de-Andlau/6000000003827974002
Emmanuel Hamel:
http://gw.geneanet.org/ehblp?lang=fr&pz=pierre
+emile&nz=hamel&ocz=0&p=dietrich+ii&n=d Klaas Pera
https://www.genealogieonline.nl/en/stamboom-helmantel/I23375.php
kjs
2017
---
Back to Alsace
---
Go back to main....