History of Alsace / Histoire de l'Alsace
---
Genealogical table for the House of Eguisheim, counts of Nordgau: metz, and Dabo
Arbre généalogique de la Maison d'Eguisheim, Comtes de Nordgau: Metz: Dabo
---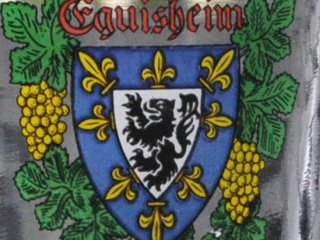 On this small page I present a genealogical table for the House of Eguisheim, Counts of Nordgau, Metz, and Dagsbourg. The family Eguisheim is a special interest to me as the village and castles are familiar, they are visible from my wife's home near Colmar. It seems a natural to wish to know more about the "trois chateaux" sitting atop the hill just right there. There is quite a lot concerning the Eguisheim dynasty on the web and I have assembled a sizable library. It helps to speak, and read, French of course. While reading I am constantly seeing names and forgetting where exactly they fit in the tree. What I wanted was a tree to consult as I studied. You may imagine my surprise and consternation when I was unable to find a single easy genealogical table for this important house. Trees and tables are readily available online for many or most of the ruling dynasties and many lesser noble families. Even a cursory look at the Eguisheims reveals them to be a very important house, related by blood or marriage to counts, ducs, kings and emperors. They gave the church saints and even the great reforming pope Leo (Léon) IX was born Bruno d'Eguisheim.
Lacking a useful tree, I was challenged to construct one of my own. Digging fairly deeply on the web does reveal quite a lot of good information. The best documents are scholarly articles tracing the descendance of the family. These references are listed below the chart. Note that each article appears to have its own "point of view" and the data do not all paint the same tree. As such, the visitor is advised to consider this chart as a reasonable hypothesis only. The fundamental documents needed to firmly establish the tree are often ambiguous and/or entirely lacking. Therefore there is much interpretation involved giving rise to the "points of view" mentioned before. I have strived to use that interpretation most often seen as a sort of "preponderance of consensus".
Recent work by Dr Frank Legl published in 1998 appears to have included a number of revisions. I do not have a copy of his (700 page!) dissertation and cannot offer an opinion, but at least two reviews by French genealogists appear to be somewhat skeptical. I have accepted Legl's interpretation for the ascendance for the Staufen line. The main themes remain the same and my goal of a reading aid is preserved. The reader is welcome to accept or not, it is just a hypothesis!
My historical references concerning the Eguisheims as found in Tome IV above.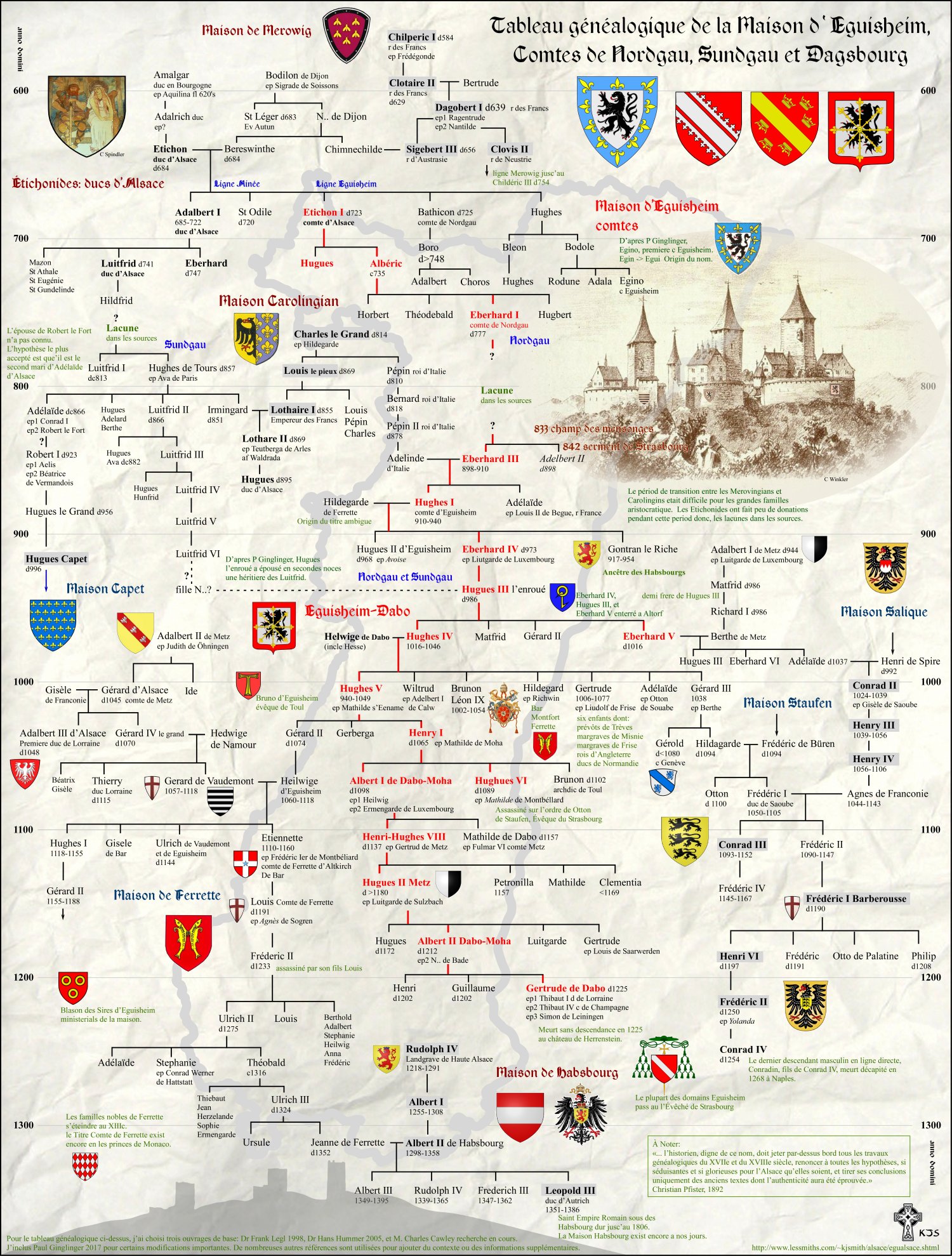 Principle References utilized:
Dynastie de LORRAINE
http://nobles-ancetres.pagesperso-orange.fr/Familles/Lorraine.pdf
Wikipédia Fr
Liste des comtes de Nordgau
https://fr.wikipedia.org/wiki/Liste_des_comtes_de_Nordgau
Mathilde, reine de France inconnue
Szabolcs de Vajay
Journal des Savants, 1971, n°4. pp. 241-260.
http://www.persee.fr/doc/jds_0021-8103_1971_num_4_1_1254
Noblesse d'Alsace
Charles Cawley & FMG
Medieval Lands - index
http://fmg.ac/Projects/MedLands/ALSACE.htm
Counts of Geneva
The Paternal Origins of the counts of Geneva
by Lindsay Brook
http://gilles.maillet.free.fr/histoire/pdf/Geneva.pdf
This reference is important as its interpretation is based on the work of F Legl, 1998. This is my only access to Legl's disseration on the Eguisheim tree.
Descendancy Narrative of Éberhard III, Count d'Alsace
Michael J.M. Raf?n. Ph.D
http://doc5thmech.com/Alsace1Des.pdf
Wikipédia Fr
Henri de Franconie
https://fr.wikipedia.org/wiki/Henri_de_Franconie
Wikipédia
Ottonian dynasty
https://en.wikipedia.org/wiki/Ottonian_dynasty
la famille des hohenstaufen du XIème au XIVème siecle
http://gilles.maillet.free.fr/histoire/genealogie_bourgogne/famille_hohenstaufen.htm
Wikipédia Fr
Frédéric Ier de Ferrette
https://fr.wikipedia.org/wiki/Fr%C3%A9d%C3%A9ric_Ier_de_Ferrette
Strasbourg : la ville au Moyen Age (Alsace)
1.2. L'incorporation au royaume franc et la promotion épiscopale : 495-751
Encyclopédie B&S Editions.
http://www.encyclopedie.bseditions.fr/article.php?pArticleId=171&pChapitreId=37400&pSousChapitreId=37402&pArticleLib=L%27incorporation+au+royaume+franc+et+la+promotion+%E9piscopale%A0%3A+495-751+%5BStrasbourg%A0%3A+la+ville+au+Moyen+Age+(Alsace)-%3ELe+Haut+Moyen+Age%A0%3A+451-1002%5D
Histoire de la région de Belfort
Association LISA
http://www.lisa90.org/lisa1/pages1/article-79.html
kjs
2016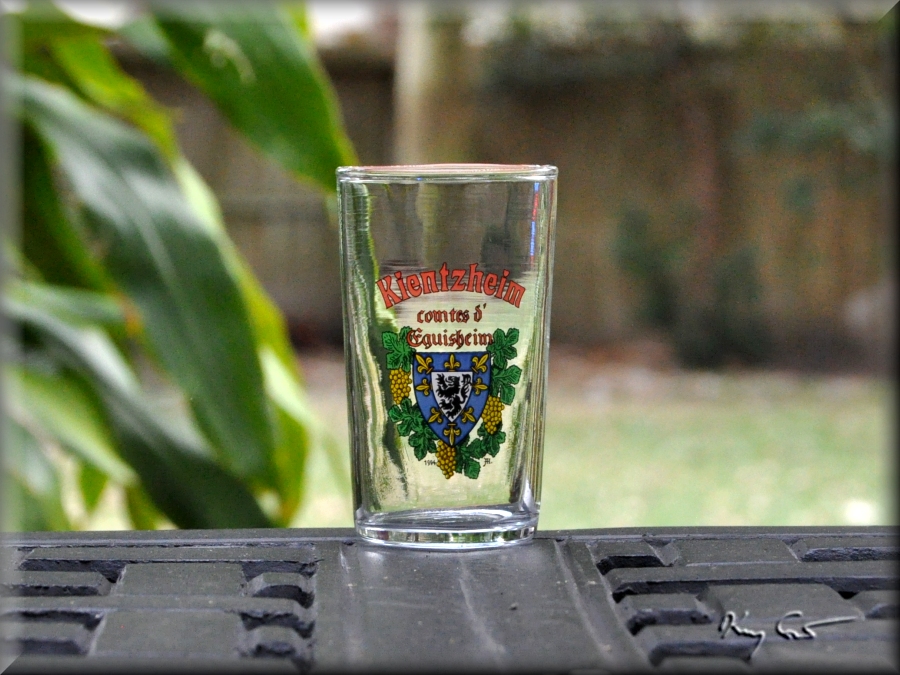 ---
Back to Alsace
---
Go back to main....