History of Alsace / Histoire de l'Alsace
---
Genealogical table for the House of Ferrette, counts of Ferrette, Sundgau
Arbre généalogique de la Maison de Ferrette, Comtes de Ferrette en Sundgau
---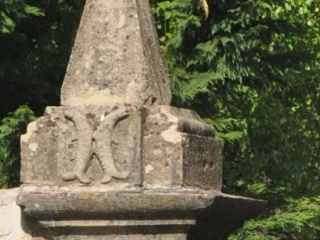 I present here a genealogy chart for the Ferrette Family of southern Alsace, (Ferrette County). The family controlled the county in Alsatian Sundgau for a little over 200 years before going extinct. Jeanne, the last Ferrette married Albert II of the Hapsburgs and therefore the title "count of Ferrette" passed into the Hapsburg family. This lasted until the end of the 30-years war with the Hapsburgs ceding their title to Ferrette to Louis XIV of France. Louis gave the county cardinal Mazarin as an appreciation for service. From there the county passed on until coming into the hands of Monaco. While France recognizes no claim of Monaco to lands in Alsace, the title "count of Ferrette" remains.
For this chart I have not traced the title lineage beyond cardinal Mazarin.
Additionally, there exists a collateral, (cadet?) branch of the family Ferrette. This branch appears in history at about the time of Ulrich III (d 1324), with the same nobel status, family name and in the same region of Sundgau as the principle family. There must be a family connection but this remains uncertain and undocumented. The tree presented attempts to trace both lines and may get a bit crowded in places. I beg your indulgences. I have taken the secondary branch entirely from the web site Wikiwand authored by Julius Kindler von Knobloch with apologies and many thanks.
Finally, there is the matter concerning Hildegarde, comtesse de Ferrette. She appears in history some 100 years PRIOR to the first mention of the house of Ferrette. Most references start the title with Frédéric I c Ferrette (d1160), son of Thierry de Mousson/Montbéliard, son of Louis I de Mousson/Montbéliard son of Richwin count of Scarpone, d >1028. Généalogical references generally assume Hildegard is simply the countesse of Ferrette without reference, and thus state (assume?) that Hugues I of Eguisheim, comte de Nordgau acquired (or may have acquired) the title from her by marriage. They remain silent as to what Hugues did with the title thereafter.
I have located two older references: Études historiques sur l'ancienne Lorraine, Volume 1 par Victor de Saint-Mauris, 1861 et Des Antiquités de la maison de France et des maisons mérovingienne et Carlienne par Gilbert-Charles Le Gendre, 1739. Each reference specifically titles Hugues as comte de Ferrette and Hildegarde receives the title comtesse de Ferrette from Hugues by marriage, to me a more logical solution. This would seem to leave county Ferrette in Eguisheim hands following Eberhard IV, Hugues II, Hugues IV and finally to Hildegarde of Eguisheim who married Richwin, count of Scarpone. All suggesting that Richwin in fact received the title from Hildegarde of Eguisheim by marriage. County Ferrette detached from the counts of Eguisheim and became dependant to the counts of Scarpone/Mousson/Montbéliard at that time. Just a hypothesis...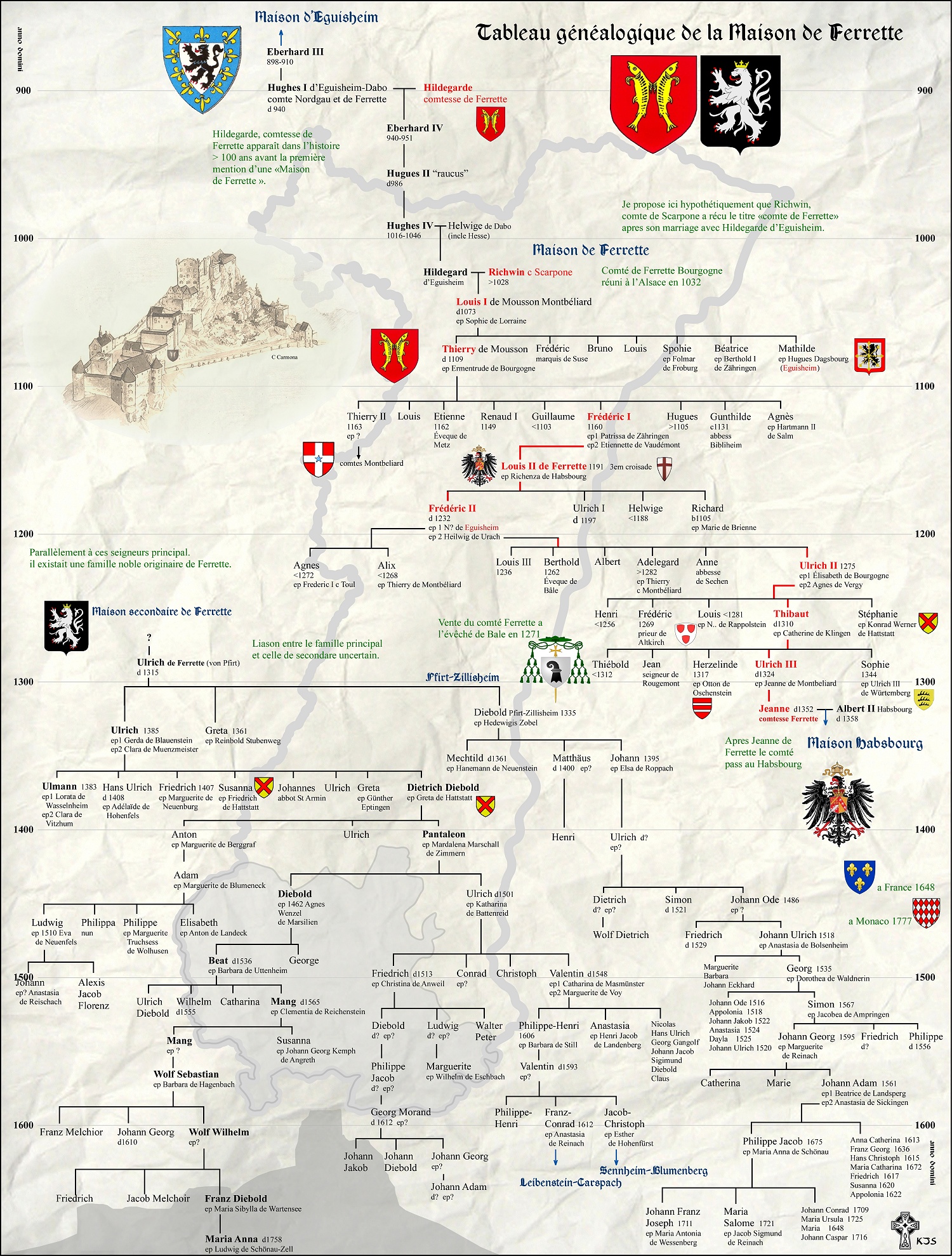 Principle References utilized:
Les Comtes de Ferrette: Arbre généalogique
Histoire Bourgogne Franche-Comté
Gilles Maillet
http://gilles.maillet.free.fr/histoire/famille_bourgogne/comte_ferrette.htm Liste des comtes de Ferrette
Wikipedia
https://fr.wikipedia.org/wiki/Liste_des_comtes_de_Ferrette
Maison de Scarpone
Wikipedia
https://fr.wikipedia.org/wiki/Maison_de_Scarpone
Herren von Pfirt
Wikiwand
Julius Kindler von Knobloch
http://www.wikiwand.com/de/Herren_von_Pfirt
Noblesse d'Alsace
Charles Cawley & FMG
Medieval Lands - index
http://fmg.ac/Projects/MedLands/ALSACE.htm
Histoire des Comtes de Ferrette
A. Quiquerez, 1863.
https://archive.org/stream/bub_gb_TM45AAAAQAAJ/bub_gb_TM45AAAAQAAJ_djvu.txt
https://books.google.com/books/about/Histoire_des_comtes_de_Ferrette.html?id=TM45AAAAQAAJ
Le Comté de Ferrette Esquisses Historiques
par Charles Goutzwiller
Secretaire en chef de la Mairie de Colmar
https://archive.org/stream/LeComtDeFerrette/LeComtDeFerretteCharlesGoutzwiller_djvu.txt
Études historiques sur l'ancienne Lorraine, Volume 1
par Victor de Saint-Mauris
1861 p 99
https://books.google.com/books?id=KV9NAQAAMAAJ&pg=PP3&lpg=PP3&dq=%C3%89tudes+historiques+sur+l%E2%80%99ancienne+Lorraine&source=bl&ots=awyvpe_aez&sig=t8tJuaL6tJxX0jNNMNIQqIhRkRg&hl=en&sa=X&ved=0ahUKEwi64-yk-LjTAhVQ2GMKHSQyCYEQ6AEIOTAE#v=onepage&q=%C3%89tudes%20historiques%20sur%20l%E2%80%99ancienne%20Lorraine&f=false
Des Antiquités de la maison de France
et des maisons mérovingienne et Carlienne
1739 p 380
par Gilbert-Charles Le Gendre
https://books.google.com/books?id=-_P-6Ft430YC&printsec=frontcover&dq=Des+Antiquit%C3%A9s+de+la+maison+de+France++et+des+maisons+m%C3%A9rovingienne+et+Carlienne&hl=en&sa=X&ved=0ahUKEwjDxYfz-LjTAhUP8GMKHRcmD6YQ6AEIJDAA#v=onepage&q=Des%20Antiquit%C3%A9s%20de%20la%20maison%20de%20France%20%20et%20des%20maisons%20m%C3%A9rovingienne%20et%20Carlienne&f=false
kjs
2017
---
Back to Alsace
---
Go back to main....