History of Alsace / Histoire de l'Alsace
---
Genealogical table for the House of Ribeaupierre (Rappoltstein)
Arbre généalogique de la Maison de Ribeaupierre d'Alsace
---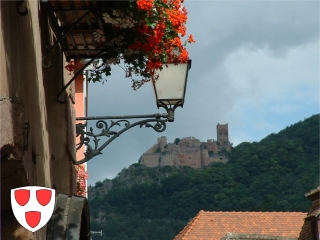 This page presents a genealogical chart for the Ribeaupierre, a noble family in Alsace from the twelfth to seventeenth centuries. I built it from the references listed below primarily to get a more complete outline. This table picks up where the Eguisheim table ends. Here I have made a more workaday table without adding any family connections to other important noble families. The principal reference data is from an excellent web publication from the Rappoltstein CV of Catholic German Students' Association, (chronik.rappoltstein.de). Other references are used to check and add depth.
Note: I have some nagging reservations about the Rappoltstein CV. While I believe the data and analysis are excellent and have gratefully incorporated it, the group itself puzzles me somewhat. They seem a bit over-conservative, and for Germany I worry about things too conservative. In their publications dealing with the 20th century*, I get the impression they mourn «Jahres der Trauer 1918» rather overmuch about the "loss" of their brethren in Elsaß.
Germany already has tried Anschluss, it did not work out well for them. I think the time for mourning is past.
* See "Das Ende in Straßburg - Rappoltsteiner Chronik.pdf"
My historical references concerning the Ribeaupierre are found in Tome VI above.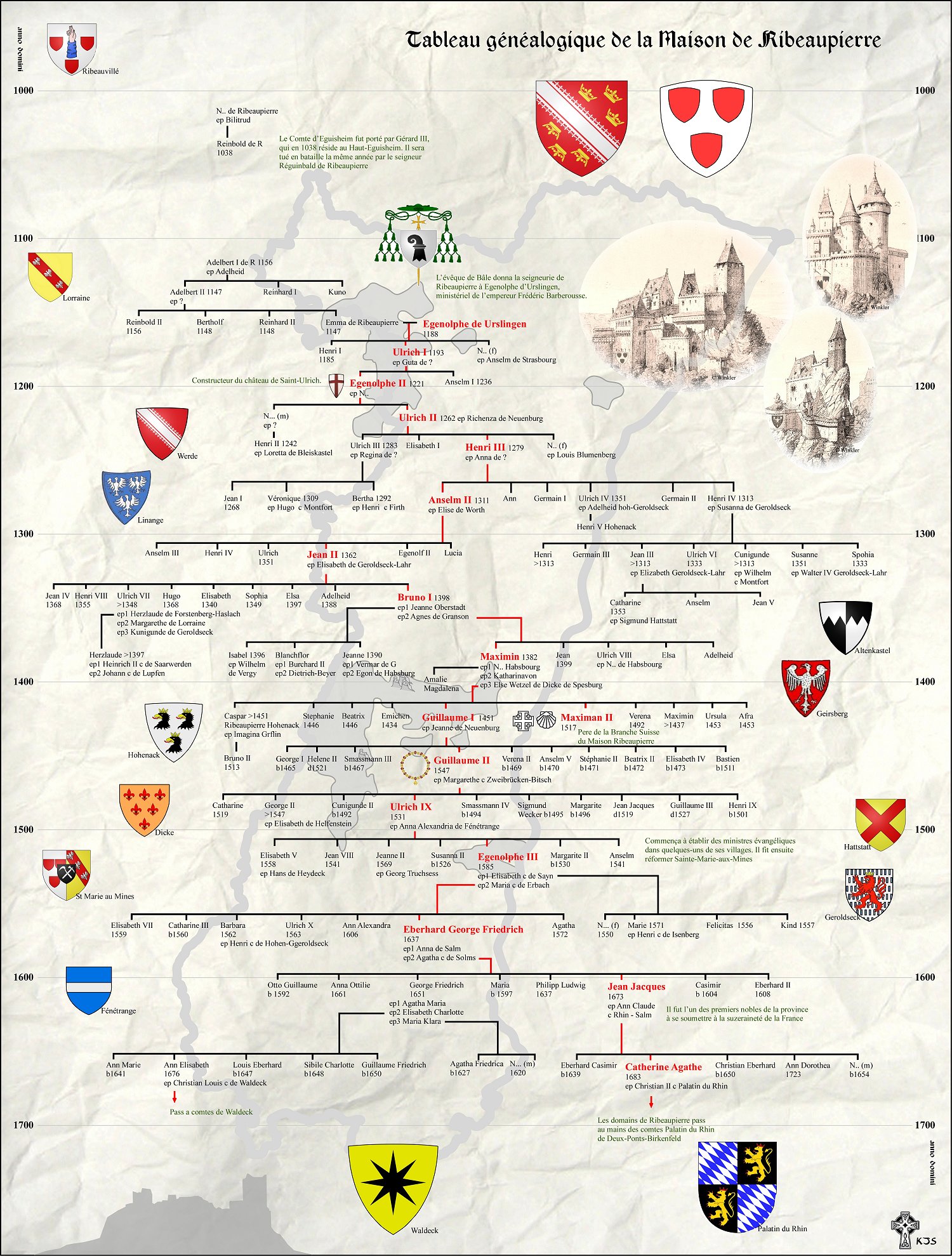 Principle References utilized:
Stammfolge der Herren von Rappoltstein
chronik.rappoltstein.de
https://www.yumpu.com/de/document/view/17344281/a7b-stammfolge-der-herren-von-rappoltstein-von-den-anfangen-bis-/5
Généalogie de la Famille de Ribeaupierre
Mémoires de la Société d'Archéologie Lorraine et du Musée ..., Volume 23
Par Société d'Archéologie Lorraine
https://books.google.fr/books?id=VsNYAAAAcAAJ&pg=PA307&dq=Jean+jacques+de+Ribeaupierre+%C3%A9pousa&hl=fr&sa=X&ei=s_gkVJScCtKoogSCkoCgCw#v=onepage&q=%22g%C3%A9n%C3%A9alogie%20suivante%22&f=true
Bruno von Rappoltstein
Power Relationships in Later Medieval Alsace
Geoffrey Carter
https://core.ac.uk/download/pdf/6116347.pdf
La légende des deux frères de Ribeaupierre
http://legende-et-realite.blogspot.com/2009/10/la-legende-des-deux-freres-de.html
Famille de Ribeaupierre
Wikipedia.fr
https://fr.wikipedia.org/wiki/Famille_de_Ribeaupierre
L'Alsace à l'avant-scène des Guerres de religion : La Nouvelle Jérusalem, Eleutheroville et les Schelmes
Georges Bischoff
https://alsace.revues.org/1526
Ribeauvillé - Vallée du Strengbach - Alsace.
http://ekladata.com/Hg0VhVL3VkscpL6w885gDDLfnf4/isite-de-ibo.pdf
Histoire de Sainte-Marie-aux-Mines
Wikipedia.fr
https://fr.wikipedia.org/wiki/Histoire_de_Sainte-Marie-aux-Mines
Château de Saint-Ulrich
Wikipedia.fr
https://fr.wikipedia.org/wiki/Ch%C3%A2teau_de_Saint-Ulrich
Die Herren zu Rappoltstein
http://chronik.rappoltstein.de/7%20Herren.pdf
kjs
2017
---
Back to Alsace
---
Go back to main....